7/15/21: INTERNATIONAL PATHOLOGIZED-TOTALITARIAN HURRICANE CENTER
---
Sponsored By:
MONOLOGUE WRITTEN BY CLYDE LEWIS
I have been asked on several occasions what my show is all about. I tell people that I am a weatherman. I sense coming storms and I predict when they may hit. I have often called myself a Storm Crow.
Most storms are easy to predict like a Dark Winter or a Summer of Transition.
The weather I talk about is not always the weather that affects us like rain or heat — the storms I predict are the geopolitical ones.
The storm I want to address is one that I believe can and will reach hurricane level by this Fall or maybe sooner.
Take a look at what is happening in countries around the world — brace yourself because like a contagion the world is on the brink of civil war.
The world is about to burst at its seems there is a super storm brewing. People in other countries who are desperate for resources are rising up, people who are tired of the tyranny are rising up, If you can pry yourself away from the mainstream propaganda in the United States we are can see that there is trouble ahead.
Africa has now seen at least a week of social unrest. Death tolls have reached 117 A sharp rise over Wednesday's 72 figure. With unrest still present, the number is likely headed up. local A newspaper called the "Daily Maverick" warns parts of South Africa "are on the brink of severe fuel and food shortages, with key supply routes" severed due to social unrest.
President Cyril Ramaphosa has been unable to stifle the social unrest as local police and military troops have been outnumbered. The nation remains totally lawless.
Defense Minister Nosiviwe Mapisa-Nqakula told parliament Thursday she had "submitted a request for deployment of plus-minus 25,000" soldiers. There was no word on when the additional troops would hit the streets.
Meanwhile, Cuba is suffering its worst crisis in years from a combination of the coronavirus pandemic that has paralyzed its economy, including the vital tourism industry, inefficiencies in the state-run economy and the tightening of U.S. sanctions on the island.
Protesters are rising up against their leaders denouncing Communism.
Cuban-Americans protested in Miami and Washington hoping that this will send a message that there needs to be sweeping change.
Miami mayor Francis Suarez joined the protest that local media said drew about 5,000 people, and even urged the United States to intervene.
The new battle cry of "Homeland and Life!", which many in Miami had emblazoned on their T-shirts, was coined in opposition to the Communist party's own slogan of "Homeland or Death!"
The protests in Cuba were sparked by anger at an economic crisis that has worsened shortages of food and medicine, and forced the government to ration electricity in the sweltering summer heat.
Media outlets are fretting about protests in Cuba exacerbating the spread of COVID-19, concerns that were strangely absent during months of violent Black Lives Matter demonstrations.
Meanwhile, Black Lives Matter made a statement that blames the US for the uprising.
The statement – originally posted on Instagram and later tweeted and retweeted – blamed the U.S. embargo for the country's instability and credited the Cuban government for historically granting "Black revolutionaries" asylum.
The BLM statement was sent out at about the time Cuban President Miguel Díaz-Canel admitted in a televised address that his government's failures played a role in the protests over food shortages and other issues. He had earlier called on "revolutionaries" to counter the anti-government protesters.
Again these uprisings are all about lack of resources and governments that have locked down their citizens and have left them without options.
Meanwhile, police have fired tear gas to disperse demonstrators in Paris, as thousands of people protested throughout France over new coronavirus restrictions.
Protests began in the French capital on Wednesday morning as the annual military parade for the traditional Bastille Day parade was taking place along the famous Champs-Élysées watched by president Emmanuel Macron.
The demonstrators are unhappy at the decision announced on Monday to oblige health workers to get vaccinated and bring in a vaccine health pass for most public places.
Unvaccinated people would require, for example, a negative test result to enter restaurants.
The French see the writing on the wall and are concerned that a dictatorship is now evident in the country,
Pandemic or no pandemic, you can't just shut your eyes to the world being re-shaped. That's what world governments are doing, all world governments.
When the agenda outstrips the statistics, we need to start speaking up. We are vulnerable now and there are enemies within that will most certainly exploit their positions and we need to be aware of what is happening.
We are seeing a rebellion against fascism.
Actual fascism. Not the pretend type that the anti-Trump "resistance" has been parroted by the extreme left and still continues to be preached about January 6th.
This whole exercise in weaponizing resources and forcing vaccines does not have to happen. We can only surmise that it is allowed to happen as the agendas that we have put forward in the past are now being followed by the letter.
The leaders of the world are ignoring history and are using COVID -19 as an excuse for their failings and are resorting to draconian methods to gain a power stronghold on the world.
We warned you that the attempts at Global reset would push the world to the brink.
There is no need for these Covid Passports. There is no need for door-to-door visits to encourage people to take the vaccine — and the lack of resources is pretty much about governments weaponizing them or cutting them off because their people do not want to participate in actions that curtail individual freedom.
In the 1950s, doctors who claimed to have drugs and vaccines that they believed would work against the Hong King flu had to bypass regulatory agencies because they were bogging down the process and were also reporting the worst-case scenarios as well.
When the new flu strain hit the United States in September of 1957, many doctors were all prepared with their ideas for effective antivirals and vaccines.
The virus, dubbed the "Asian flu," killed an estimated 70,000 Americans and one to four million people worldwide.
Just so everyone knows – that is if you want to learn some history – governors did not call out the National Guard to knock on doors, and political panic-mongers did not blame it all on President Eisenhower.
College sports events were not cancelled, planes and trains continued to run, and Americans did not regard one another with fear and suspicion, touching elbows instead of hands.
For those who grew up in the 1930s and 1940s, there was nothing unusual about finding yourself threatened by contagious disease. Mumps, measles, chicken pox, and German measles swept through entire schools and towns. Polio took a heavy annual toll, leaving thousands of people (mostly children) paralyzed or dead.
While we watch the world burn in the safe confinement of our homes, we need to do some serious thinking about what you are going to do now the storm clouds are forming,
This is not your typical storm this storm is a pathologized totalitarian hurricane.
The mental health of the nation is certainly going to be a looming problem, and the feeling of desperation in the face of scarcity is also going to create problems for the country. This is where we are going to have to concede that the government may be locking you down for safety but they will weigh you down with a lot of violations of human rights to maintain the continuity of government.
The pandemic is revealing to all what many of us have known for a long time: the status quo was designed to fail and so its failure was not just predictable but inevitable.
Listeners to my show, have certainly been aware of what was coming and as I have said there is somewhat of a novelty to treating what I talk about as "what ifs" but I was slowly becoming the talk show host that not only talked about the "what ifs" but also the "what now's?"
I am not only saying "what now?" but "what then?"
If this Hurricane of unrest is spreading around the world and winds up at your doorstep–what then?
No one is giving the answers to what do we do now and when it ends – what then?
I don't have a crystal ball or anything, but I'm expecting things to get rather ugly in the next few months , and probably even uglier in the foreseeable future.
A major storm is coming to the United States. It has been coming for the last 16 months.
Why do you think they are asking around about extremism? Why do you think they are calling for laws against domestic terrorism?
You look at the world stage and there is your answer.
The global technocracy isn't going to be happy until they push people towards widespread social unrest — or de facto global civil war — that they need it as a pretext to lock in the new pathologized totalitarianism and remake whatever remains of society into a global pseudo-medicalized police state, or that appears to where we're headed currently. We appear to be heading there at breakneck speed.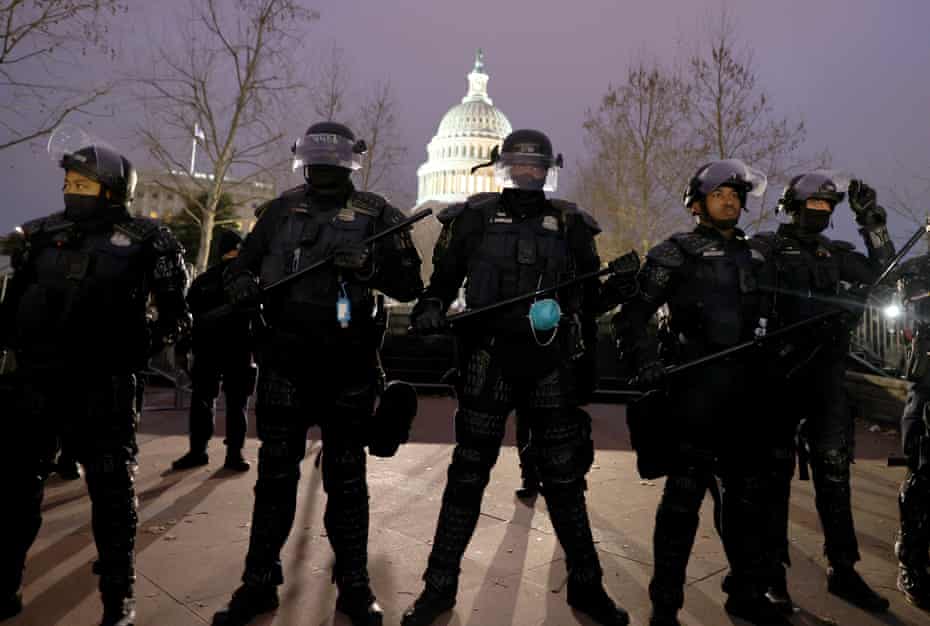 They are forcing people into being ungovernable — to go rogue and it certainly will harden their resolve for a new plan to keep the system inline for their operation.
We have all seen the propaganda, the lies, the manipulation of statistics, the abrogation of constitutional rights, the New Normal surge squads, the corporate censorship, and all the rest of the roll-out of the new official ideology and the totalitarian measures deployed to enforce it.
And some people are still calling those who are giving the heads up conspiracy theorists.
As I have said, that combination of words have overstayed their welcome and those who do not listen will be wondering what has happened to the world.
I think some people are learning the hard way and what is happening the world now can come our way too.
What we have is the advantage to avert it and avoid it but most people take for granted that the United States will always be safe as long as there are heavy handed leaders that can enforce laws and take away human rights and agency.
Some people will just give up, let it happen and consider those who rebel as terrorists.
The course of events has always been clear, a course that every totalitarian movement needs to take to get where it's going. You can't remake entire societies into quasi-totalitarian systems without civil unrest, chaos, rioting, war, or some other form of cataclysm.
We can all say that they are brainwashing the masses and that we know better and all of those other platitudes that make us feel intellectually in tune with the cause and effect but at some point , there needs to be a concerted effort to goad the people who are resisting your new totalitarian "reality" into getting unruly, so you can crack down on them, and transform them into official enemies, which appears to be what is happening currently.
As I have said recently —citing the facts has no impact on those who think they have chosen the better evil — I declare again that it is all evil even the lesser one.
Think for yourself and stop having these so called caring and empathetic leaders make decisions for you.
They are not even trying to cover up their lies anymore.
There are several things that I can tell you that proves this.
For example, it looks as if Twitter or some other group on the internet is now spoofing social media and Twitter with a bot — or a group of people that are participating in a campaign to make those who are not vaccinated feel as if they are alone. It's cloaked in feigned concern for the family members, but it's a fake comment designed to put social pressure on the unmutated, nevertheless.
People are getting messages now that say:
"I am the only one left in my family who has not taken the vaccine. All of them asking me too many questions. Even my brother who is a nurse is asking me why I am not willing to be vaccinated. It really saddens me that I now have to think about the probability that one of them will get a severe adverse effect once they have the 2nd dose."
Or…
"I haven't been invited to my brother's house for family get-togethers in several months. It's depressing to think that I may have to look for unvaccinated friends to spend the year-end holidays with."
Oh, The horror of being a pariah among your peer group –and these tweets are obviously being geared towards younger people who have not been pricked.
Also there was an obvious slip of the tongue coming from Joe Biden's press secretary Jen Psaki.
A bizarre video is going around of the White House Press Secretary advising on "communicating clearly" about vaccines, after she'd told Americans they "can still kill you," has half the internet shocked, while the other half hasn't quite noticed.
I checked to see if this was all fake and no, it was put in the minutes of the official White House website.
The clip shows Jen Psaki apparently responding to a question about vaccines during a Wednesday press briefing, stressing the importance of staying on message and praising actress and singer Olivia Rodrigo, who came to the White House to raise awareness on the subject.
But Psaki's message soon takes an odd turn, as she suddenly declares that the vaccines the Biden administration is desperate to convince more Americans to take "can still kill you" – even if you're "under 27." She made the comment after noting there are areas in the country with lower vaccination rates among people under that age, seemingly meaning to say COVID-19 can still kill even young people.
"We are quite focused on communicating directly with those people, hence our special guest today, about why it's important to get vaccinated, why these vaccines are safe, why they can still kill you even if you are under the age of 27," Psaki declares, seemingly unaware there is anything odd about her words before concluding:
"We need to be clear and direct about our messaging."
It seems that she was being very clear and direct. Morbidly so.
Psaki has had a tough few days, tasked with defending the White House's door-to-door vaccination outreach program as information-based, after some Americans were disturbed to see footage of a group of North Carolina vaccinators administering the jab to one man right on his porch.
In Argentina, there was footage released of their door-to-door program where a man refused to be vaccinated and climbed on his roof. The police were called and forced him to get the shot.
This is the new pathologized normal.
This is the hurricane that is brewing and it is spreading all over the world.
I have noticed that a lot of those that support the New Normal have switched off, or have landed on my social media attacking me thinking that their opinions matter.. well evidence matters in my opinion and giving sound information about what is coming is far more important to me right now.
This is what it has come to– it starts on the internet and moves into the streets.
People are reporting other people's "thought-crimes" to global corporations and the law enforcement agencies of "democratic" governments in the hopes of destroying or damaging their lives, or, at the very least, getting them censored, or otherwise erased from public view.
They want to label the informed and the prepared as an underclass of "anti-social conspiracy theorists "anti-vaxxer disinformationists," "white-supremacist election-result deniers," "potentially violent domestic extremists," and whatever other epithets they come up with, so that we can be painted as dangerously unhinged freaks and cast out of society in a way that makes it appear that we have cast out ourselves.
This process is already well underway, and it's only going to get more intense, which will inevitably lead to social unrest.
It already has in other places all over the world –and as they say, the storm clouds are gathering and a wild hurricane may be coming to the United States.
---